28 Quality Denture Teeth Denture Repair Kit ! Free Shipping FDA Registered 852305002025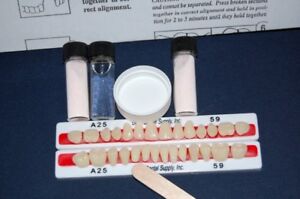 ---
P.E.R.K.28

Proven Safe and Effective--FDA Registered for OTC Use

Professional Emergency Repair Kit

The only professional emergency repair kit that comes with 28 PROFESSIONAL DENTURE TEETH!  You will receive the most popular size and color of denture teeth used.  All teeth can be exchanged for free of charge if our teeth are not compatible to what you have now.  Just mail them back and state: (bigger, smaller, lighter or darker) and we will mail your new ones right out to you with free shipping.  You will also receive instructions and enough repair material to fix 5-7 broken or cracked dentures and plenty left to replace missing teeth.  No other kit on the market comes close to P.E.R.K.  This kit should be kept on hand by all denture wearers because a broken or cracked denture or missing tooth can cause embarrassing situations.  Having just one tooth put on your denture at a dentist office will cost you 4 to 5 times as much as you will pay for P.E.R.K. 

Shipped same or next day via post office, First Class Mail.

Thanks for looking!

WARNING: For emergency use until you can see a dentist. 

Product sold by Perma Laboratories.  In business since 1986 selling denture products via mail.

***30-Day-Money-Back Guarantee.  Just return empty containers for a full refund.  No questions asked.

Add a map to your own listings. FREE Trial!