Blow ( Blu-ray )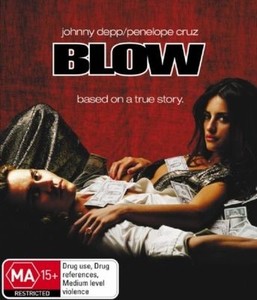 About this product
Product Information
He was just a small town boy who became the most powerful drug lord in the United States. His name was George Jung, the man first responsible for bringing cocaine to the American people. From poverty and suburban obscurity, to untold wealth, power and infamy, this is the amazing true story of the man who partnered Colombian cartel baron, Pablo Escobar and rode the powerful, dangerous and turbulent wave of drug trafficking - ultimately paying for it. Johnny Depp (Chocolat) stars with Penelope Cruz (Vanilla Sky), Cliff Curtis (Three Kings), Rachel Griffiths (My Best Friend's Wedding), Paul Reubens (Mystery Men) and Ray Liotta (Turbulence) in the critically acclaimed, box office smash about the man who never toed the line - just chopped it - Blow.
Product Identifiers
APN
9398710324181
Title
Blow
Format
Blu-ray
Product Release Date
04/12/2008
eBay Product ID (ePID)
118525930
Key Feaures
Theatrical Release Year
2000
Number of Discs
1
Actors
Franka Potente, Johnny Depp, Paul Reubens, Penelope Cruz, Rachel Griffiths, Ray Liotta
Directors
Ted Demme
Rating
MA15+
Rating Info
Drug References, Drug Themes, Drug Use, Medium Level Coarse Language, Medium Level Violence
Language
English
Run Time
124 minutes
Theatrical Information
Primary Genre
Drama
Sub Genre
True Story
Technical Information
Aspect Ratio
2.35:1
Main Audio Type
Dolby Digital 5.1
Video Format
PAL
Tag Line
Based on a True Story.