Katarakt : afleveringen 1 - 6 (2 DVD)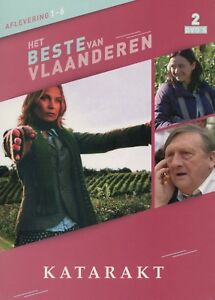 ---
Katarakt
Afleveringen 1 - 6
Met o.a. Karlijn Sileghem, Marc Van Eeghem, Ludo Hoogmartens, Viv Van Dingenen, Jaak Van Assche, François Beukelaers, Chris Lomme, Koen Van Impe, Bruno Vanden Broecke, Ides Meire, Joke Devynck, Dirk Tuypens, Els Olaerts en Maaike Neuville
EAN : 5 413952 192955
Region Code : PAL 2 (zone 2)
Screen Format : 16/9
Audio : Dolby Digital 5.1 & 2.0 Stereo
Language : Nederlands
Subtitles : none
Running Time : ca. 300 min.
Nieuw - Neu - Nouveau - New & Sealed Item
I'm not responsable for loss or dammage during shipping.
A tracking number is only provided with registered shipping.
Ik ben niet verantwoordelijk voor schade of verlies tijdens de verzending.
Een trackingnummer is enkel beschikbaar bij aangetekende zending.
Je ne suis pas responsable en cas de perte ou dégâts pendant l'envoi.
Un numéro d'envoi n'est que disponible avec envoi recommandé.